Morbius: Movie Review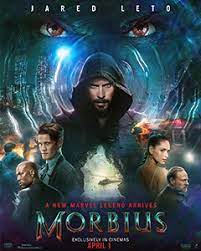 In the Movie Morbius, Micheal Morbius suffers from a rare blood condition and is trying to save others from the same fate. As this disease was plaguing him from childhood he was encouraged to become a doctor. He receives a briefcase and card from a mysterious man talking about a possible cure. In a risky gamble he uses the contents of the briefcase to cure himself and try to find a cure. However, he ends up infecting himself with form of Pseudo-Vampirism, giving him superhuman abilities. But his newfound power comes with a cost: his unquenchable blood-thirst. Hero by day and semi-villain by night Morbius fights to find a way to use his powers for good.
Overall, I enjoyed the movie. There was a well driven and easy to understand story. Micheal Morbius is an compelling character with understandable motives. Its also cool to watch him combat the vampire half of himself and the enemies he has to face. With a run time of almost two hours its a good time filler with very captivating action scenes. As the movie is PG-13 there is parental guidance recommend.