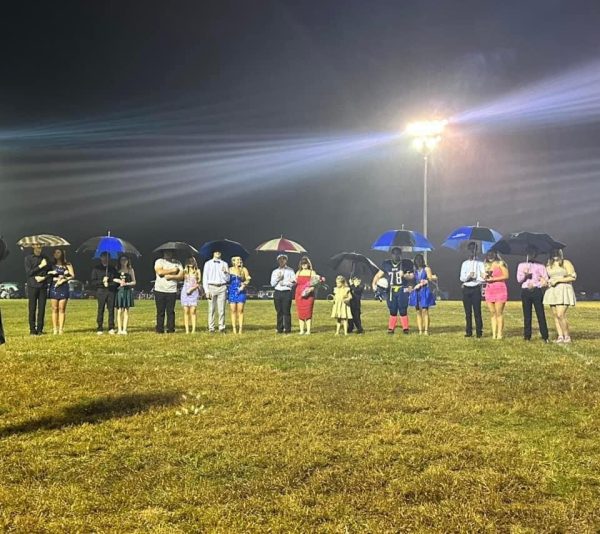 The Palestine High School Homecoming coronation was held at halftime of the Homecoming football game on Friday, October 13th.
There was a bit of confusion surrounding when and where this year's coronation was going to be held because of the inclimate weather conditions that rose that night. Despite the rainy weather, they decided to continue the tradition of having it on the football field at halftime, but added an umbrella to their ensemble.
The court consisted of freshman attendants Kailyn Shoulders and Andrew Amburgy, sophomore attendants Autumn Taylor and Brody Beabout, junior attendants Haylee Smallwood and Holden Sipes, and the queen and king candidates Ahlya Abel and Kaden Bonesteel, Briley Beabout and Wade Bickers, Charlie Burkett and Jack Hawkins, and Zoey Beabout and Aidyn Piper. Also included in coronation was the flower girl Bexley Kemp, crown bearer Daemian Carpenter, and the 2022 PHS Homecoming queen and king Caitie Drury and Elliott Meadows.
During coronation, each pair walked out onto the football field in their fancy Homecoming attire covered by an umbrella to try to keep dry. Announced by Mr. Will, they were recognized for all the sports, clubs, and other extracurricular activities they participate in.
And the moment everyone has been waiting for… the results of the homecoming queen and king voting are in! Your 2023 homecoming queen and king are Zoey Beabout and Aidyn Piper. Congrats to you two and everyone else nominated by their class to be a part of this year's court. Everyone looked wonderful!