Movie Review: American Underdog: The Kurt Warner Story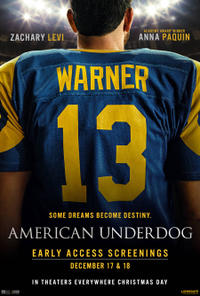 The movie that I watched over Christmas Break was called American Underdog. This was based on the true story of a man named Kurt Warner. Kurt was first a stock boy at a local grocery store in his town in Iowa and then after overcoming years of challenges, he became a two-time NFL MVP. He was a Super Bowl Champion and a Hall of Fame quarterback.
This movie was very inspirational and really sad to watch with your family, or even just with you and another person. If you are a lover for this sport then this is definitely a film for you to watch in theaters. This movie tells a really good story about his life and how he became who he was set to be, and still to this day is loving every bit of it. So if I were you, I would definitely recommend watch this movie sometime while it is still in theaters.