Upcoming Red Ribbon Week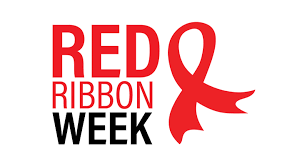 This year's Red Ribbon Week will take place from Oct. 25th through Oct. 29th. Each day will feature a different dress up day related to being Drug Free.
Monday, October 25th                 Lei off drugs! Wear Luau attire. (Wear something Hawaiian themed.)
Tuesday, October 26th                Throw drugs and bullies some shade! Wear a hat and sunglasses, any style or shape of hat and glasses.
Wednesday, October 27th           Drugs and Bully free looks like me! Wear your most unique outfit.  Be you!
Thursday, October 28th              Team up against drugs and bullies! Wear your favorite team apparel.
Friday, October 29th                    Say "Boo" to drugs and bullies! Wear your Halloween Costume.
Whether or not you're dressing up, you should take part in Red Ribbon Week this year.