Active Shooter Drill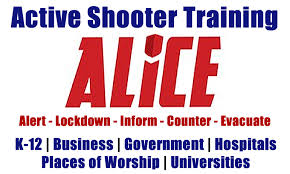 Hang on for a minute...we're trying to find some more stories you might like.
The first active shooter drill to include students will happen on October 16.
Ms. Waldrop spent several hours throughout the day Monday, October 7, speaking to students and explaining why we will be doing it. She also talked about the methods we could use to either escape or hide and protect ourselves.
The active shooter drills are now mandated by the state along with tornado and fire drills.
Alice means Alert-Lock down-Inform-Counter-Evacuate or run-hide-fight and is a federal Homeland Security Department program originally created for use in workplace settings.
The Alice Training began in the 2000's, and has been given to teachers several times in the past.  During one of these drills, students were invited to participate, but it was not required.  This time,  is the first time students have been required to participate.