New Student Business: Q&D Detailing
Hang on for a minute...we're trying to find some more stories you might like.
We all hate driving a dirty car. We think people judge us by the looks of the vehicles we drive. Well I have a solution for you. This summer I will be detailing cars with the help of my good friend Dillon Rairden. We have noticed the need for a quality, cost effective detailing service in the county for people who do not have the time, or the expenses to wash their car or get it corrected at a detailing shop. If you want your car to look like it just rolled off the lot all summer long I highly suggest you check this out.
First we will start off with a hand wash. We use foam cannon which sprays a soap solution that removes the dirt, grime, and iron out of your vehicles paint, and then we hand wash top to bottom. Once we dry the car off we will go over the whole car and clay bar the exterior to remove the imperfections in the paint. Now if you go look at your paint with the help of a flashlight 9 times out of 10 you will see swirl marks. This is where the two step polishing comes into play. Polishing is the act of lightly digging into your paint to remove the top layer of imperfections you see with your naked eye. The first step is to grind down to remove the bad stuff and the second step is to buff it out to make it smooth and clear. Next we will move on to our waxing stage to put a layer of gloss and protection to prevent scratches in the paint, and it also provides excellent water and dust repellent. Finally we top off with with a Rain-X cleaning solution on all the windows and the windshield for crystal clear view and amazing water beading characteristics when driving in the rain.
If you choose our interior detailing we will shampoo your seats, carpet, and roof liner, as well as deep clean your trim and upholstery. We will finish with a layer of protectant on everything within the inside of your vehicle to protect the plastic and vinyl from cracking from the sun rays.
We are also hoping to possibly provide a ceramic coating service. This is a liquid polymer that is applied by hand to the exterior of a vehicle. The coating chemically bonds with the vehicles factory paint, creating a layer of protection, and a premium wax alternative. A ceramic coating creates a permanent or semi-permanent bond with a vehicle's paint, meaning that it does not wash away or break down and does not require repeated application every few months.
We use all of the Chemical Guys products because we have found them to be the best performing products. They are Eco-friendly, and do not contain a bunch of hazardous chemicals like many of the other brands that are out there.  
If you're interested in having your car, truck, or SUV detailed, see Quentin Postlewaite for more information.  We plan to start working as soon as school is out!
About the Writer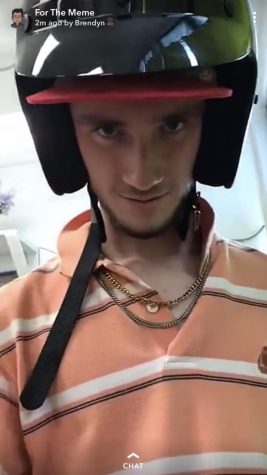 Quentin Postlewaite, Contributor
Hello, I am Quentin Postlewaite. This is my first year in journalism and it seems like a really great class to bring light on areas some people may not...