Play Review
Hang on for a minute...we're trying to find some more stories you might like.
 This past week on Friday, April 12, and Saturday, April 13, the Drama Club had their Spring Production.  The three plays featured were "First Date", "Elevator Games", and "The Death of the Doorstep Kiss". For the seven senior members of Drama Club, this was the last time that they will act on stage or run lights or sound with the Drama Club at PHS.  
Actors didn't get to have as many evening practices because of Softball and Baseball games and Track Meets.  There were games or meets almost every day the week before the play. The only night that there was not anything was Tuesday so the Drama Club had their dress rehearsal Tuesday night.  This was not a very productive rehearsal for some of the plays because the SAT or PSAT had happened that day as well.
The Drama Club had their own sound system this year, and they had just gotten some of their mics the week before the play, which meant that they had to learn how to use this sound system. The first night a few of the cast forgot to turn on their mics, so it was harder for them to be heard but on the second night, everyone's mic worked well.  
A few of the students at PHS wrote reviews for the play.  They all agreed that when Evan Holscher came out in a clown costume while on a date with Summer Agan, the scene was really funny.  One of the lines was slightly changed in this scene to say that Summer didn't know what Evan looked like under that clown costume and "he could have been in an skiing accident and lost his nose."  In reality, Evan actually WAS in a skiing accident in which he injured his nose, so those who know Evan found this scene especially humorous.
The plays went well both days, even with the hiccups that happened in them.  When the wrong lines were said or a line was skipped, the cast recovered quickly from it.  There were no long awkward pauses like there were in the fall production which was a worry for some of the cast members.  
About the Writer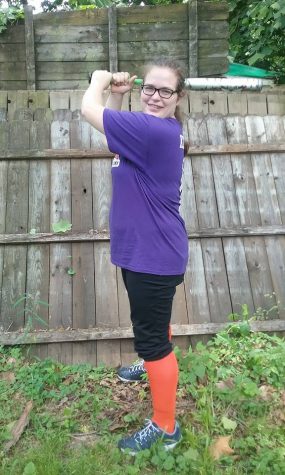 Kelsey Lanham, Contributor
This is my first year in Journalism.  I thought that Journalism would be a fun class to take and then I could have a say in what the newspaper had in...