Punta Cana, Dominican Republic
If you or your family is planning a vacation in the future, do not out rule a vacation out of the country. Recently, I visited Punta Cana in the Dominican Republic. This beautiful place has become a hard picture to get out of my head. While in the Dominican, we stayed at an all-inclusive resort called the Royalton Bravaro. This resort and staff was nothing short of amazing. They made us feel at home all while being in another country. When we were on our way to the Royalton, we got to see some of what life is really like in the Dominican Republic. They are a very poor country, and to see all the trash and people along roadside is very sad. But this is just a glimpse of what this country really has to offer.
The Royalton Bravaro Resort made the this country look amazing. Throughout each day, the staff would play games and get the people involved in fun activities. Depending on the day, there would be many different activities. The staff and people there were always happy go lucky, and were always there to assist us in whatever way they could. This made our trip so much more enjoyable. We were also able to make some new friends with some of the staff, whom we still keep in touch with. Making friends like this allowed us to see a little more of what the Royalton had to offer. "We are like on big family here," is what on of the workers said when trying to describe this place when we first go there. There were five pools total on the resort, along with beach access, and many hot tubs for people to enjoy while staying at the Bravaro.
Most of our time was spent at the beach, which is where we spent some time in the crystal clear blue water. The ocean water was a bright blue which made for some great memories. Along with the beach, they offered many activities such as hang gliding, tubing, and also a banana boat. We took a trip out on the banana boat before we left, and if you have not ever been on one, I advise you to try it. Although we did all fall off once, we still got a good laugh out of it when we could not get the boat flipped back over.
Once our trip was coming to a close in Punta Cana, it was very bittersweet. My friends and I were very sad to leave that beautiful place and the amazing people and hospitality they offered. One friend said before we left, "we have to come back to this place," and I think we all agreed. So if you are getting ready to take a trip, be sure and check out Punta Cana in the Dominican Republic, because it is like nothing you have ever seen before.
About the Contributor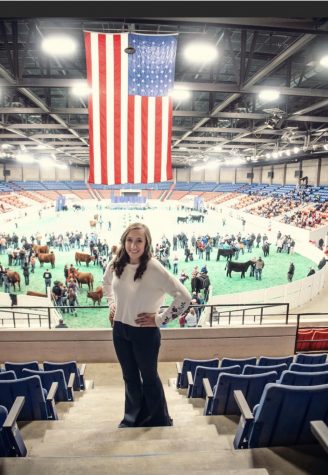 Ashtin Guyer, Editor
I am currently a senior at Palestine High School, and am in my second year of Journalism. Last year when I decided to take Journalism for the first time,...