Teacher Spotlight: Mr. Will
Hang on for a minute...we're trying to find some more stories you might like.
Mr. Will, Palestine High School's math teacher began teaching here in the fall of 2014, which makes this his 5th year. Mr. Will attended Eastern Illinois University after he graduated from Newton Community High School and spent 4 years earning his degree. This is his first full time teaching job out of college. He said, "I accepted this job during student teaching so I knew before I graduated that I had a job waiting for me."
Mr. Will did his student teaching in Casey, Illinois. He was able to commute from EIU, teach, and be an assistant coach in tennis. In first grade Mr. Will's teacher sparked his love for numbers and while he was in high school he had two math teachers that were excellent, funny, and well respected.  Mr. Will initially did not go to college to be a math teacher. He was interested in engineering and accounting but only for the money aspect. He said, "I am so thankful that I changed to education because I am truly happy. I do not know how things would be if I was not a teacher and not at PHS."
Mr. Will teaches Algebra 1 Concepts, Informal Geometry, Problem Solving, Probability and Statistics, Geometry, and Pre Calculus. Mr. Will interviewed for three different high schools. He said, "Honestly, I was going to accept the first math teaching position that was offered."
A fellow friend/math teacher drove with Mr. Will to Watseka, Illinois to interview for a job. The principal thought it was weird that they rode together to the interview for the one position so he believes that is why they were both passed up on that job. He also interviewed at Normal Community High School in Bloomington, Illinois and the following week he interviewed here at Palestine High School. A couple days after his interview he received a call from Palestine with a job offer so he took it immediately. Mr. Will said that his favorite part of working at Palestine High School is, "I love the community aspect of Palestine High School. I love that the teachers have the students' best interest in mind and that the students are respectful to their teachers. This sense of family/working together has made teaching at PHS a wonderful experience."
In Mr. Will's spare time he spends a lot time with school opportunities, drives a bus for practice everyday, and coaches two sports (cross country and track and field), he said, "those three activities take up a ton of my time."
Also in his spare time he works out every morning at 5:30am. He said, "My family and friends also get a lot of my spare time and I would not have it any other way."
Due to the friends that Mr. Will made while he was in college he has traveled to New York City and Los Angeles. He visited New York three times now and he loves going! He said, "my friend in New York gave me a grand tour of the city."
His other great friend worked for USC in Los Angeles so they have spent a weekend there living it up! He said, "the city was crazy, the college campus was beautiful, and the mountains were amazing."
Two things that are on Mr. Will's bucket list is to travel overseas someday (he does not have a specific place but he does want to travel) and he also want to get married and have a family, he said, "I also have the goal to get married and have a family. I'm hoping to accomplish both of these goals someday."
Mr. Will coaches two sports, Cross Country and Track and Field. He has been coaching Cross Country for 2 years and Track and Field for 4 years now. While Mr. Will was in high school he played football and tennis all four years at Newton. Here at PHS, Mr. Will fell into the coaching positions. A few parents were asking for help from a teacher to coach Track and Field. He said, "I knew nothing of the sport so I supported and absorbed as much as I could."
He knew that the plan was for him to eventually take over. He attended several conferences and asked area coaches for help. He said, " I know feel very confident in my track and field coaching ability."
Since he is the track coach, he wanted to take cross country since that was a similar field. When the position opened up, Mr. Will went for it. He said, "I know I am better suited for coaching football or tennis but I do not regret what I coach now and absolutely love it."
About the Writer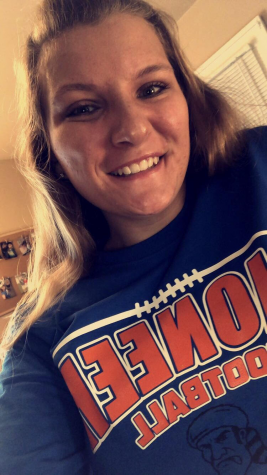 Kaley Nidey, Contributor
This is my first year of Journalism. I am taking Journalism because I think that it would be fun to work on the newspaper and yearbook. Two things that...