Palestine Picassos
Hang on for a minute...we're trying to find some more stories you might like.
It is the art teacher Mrs. Wartsbaugh's second year teaching here at Palestine.  Not only does she teach the high schoolers, but she teaches the grade schoolers also. She says, "I was very blessed to be hired by Palestine and have the opportunity to create a new K-12 Art Curriculum." Mrs. W went to Lincoln Trail College and then transferred to Eastern Illinois University for college. While she did her student teaching at Oblong High School, Palestine is the first place she has taught full-time.
She decided to be an art teacher because she is a firm believer in doing what you love as a career, and having the ability to teach others art. She said, "I have always enjoyed drawing since I was a child; however, when I was in high school I became very discouraged with my abilities as an artist due to not having a very positive experience while taking art class." She had considered being a child psychologist until her senior year of high school, but she had two awesome teachers that encouraged her to pursue Art Education. Mrs. W enjoys doing stone lithography (a form of printmaking), as well as painting in oils and drawing people from life. She especially enjoys teaching her students printmaking.
Mrs. W started Art Club to provide extra opportunities for students who are really interested and passionate about art and because she never had an opportunity to do anything like this when she was in high school. Art club meets every Tuesday and Thursday from after school until 4:30. It is not too late to sign up for Art Club. Art clubs lasts all year so after you finish a sport, or Scholastic Bowl, or whatever you are involved in, you can join.   There are 28 Art Club member, but due to extra-curricular activities, there are currently only an average of 8-10 members actively participating every week.
For their first project, the Art Club is going to create murals in both the grade school and the high school. The high school students came up with a new pioneer symbol surrounded by symbols of every academic and extra-curricular opportunity that is available to the students of PHS for the high school mural that will be in the cafeteria. The grade school students came up with a unique idea of creating a tree with each academic class within its branches. It will also have the 6 pillars of character within them for the grade school mural that will be in the commons room.  She said, "I also wanted to have a way for the club to make it's mark (literally) on the schools." Mrs. W also has many other things planned for the art club.
About the Writer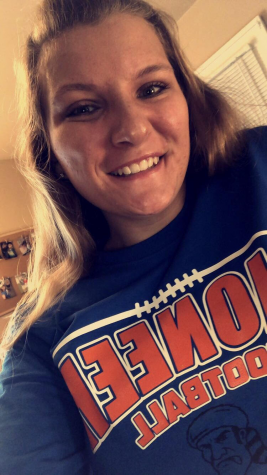 Kaley Nidey, Contributor
This is my first year of Journalism. I am taking Journalism because I think that it would be fun to work on the newspaper and yearbook. Two things that...