On Your Mark…Get Set…Go…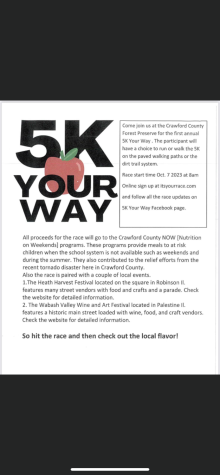 The Palestine NOW Program is hosting a first annual 5K Your Way.
This event will be held at the Crawford County Forest Preserve. Participants will have a choice to run or walk the 5K on the paved walking paths or the dirt trail system.
Don't panic– you've got plenty of time to prepare for this big race. The race start time is October 7, 2023, at 8am. Online sign-up is available at itsyourrace.com. You can follow all the race updates on 5K Your Way Facebook page.
All of race proceeds for the race will go to the Crawford Count NOW programs. This program has a goal to provide meals to at risk children when the school system is not available, such as the weekends or during the summer.
The race will be held along with a few other local events :
The Health Harvest Festival-on the square in Robinson IL-check the website for more information
The Wabash Valley Wine and Art Festival-on Main Street in Palestine IL-check the website for more information
Sounds like a good day to go support a local group, get some exercise in, and then hit up the local festivals.