Why do the leaves change in fall?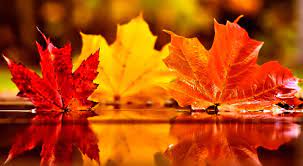 Have you ever wondered why the leaves change in fall?
The science behind it is the chlorophyll in the leaves.
As summer leads to winter, the chlorophyll breaks down because of the length in daylight and changes in the temperature. The leaves stop the photosynthesis process, and as chlorophyll breaks down, the green does too, and the beautiful orangery,reds, and yellows appear. The leaves change to signal to the leaf to stop making chlorophyll in order to prepare for winter.
How neat is that?